Despite the winter chill in the air, the mood on the picket line outside the Matamoros Coca-Cola bottling plant was optimistic.
"We're not fighting for ourselves, but for a better quality of life for our kids and their children. They won't be screwed over or trampled upon by these kinds of people any more," said Juan Luis Gaytán, 37, a mechanic at the plant, which is operated by Arca Continental, the world's second-biggest Coca-Cola bottler.
Workers dressed in khaki uniforms brandished colourful homemade signs reading "We continue the struggle" and "20-32" – a reference to the strikers' demand of a 20% pay hike and a one-off 32,000-peso bonus.
A wave of wildcat strikes has rolled across this Mexican border town, as thousands of workers walked off the job to demand better salaries, safer conditions – and union leaders who put members' concerns ahead of company interests.
The strikes have closed or slowed production at dozens of maquiladora assembly plants and other factories located south of the border to take advantage of lower labour costs.
But more than two weeks after the strike began, companies are still underestimating the workers' determination, Gaytán said. "They're absolutely confident we will give in. But if we give in, then things will stay the same."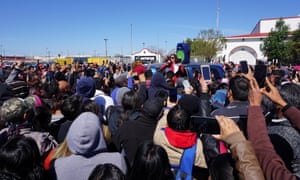 Employees of Autoliv Mexico, the world's largest automotive safety supplier, strike in Matamoros. Photograph: STRINGER/Reuters