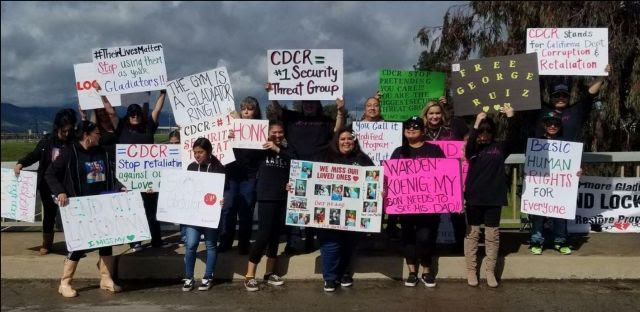 Background
It has been a full year of orchestrated "gladiator fights" with no education, no programs, hunger strikes, lockdowns as long as 9 months, and next to no visitation for populations at CTF Soledad. As some of you might know, CDCr just admitted failure and stopped the "incremental release" (gladiator fight) program at the root of it all. While the program is reportedly being investigated by the Office of the Inspector General and cancelled, guards have been enacting group retaliation on whole segments with people thrown in administrative segregation (ad-seg), then people taken out of ad-seg but being placed on lockdown with no phone or visits, mail and JPay receipts not being delivered, and personal property being tampered with. A full list of grievances are also attached, that you can refer to in your call. The system of petty and inhumane punishments must end! End group punishments!


 demands list soledad
Background Article on Gladiator Fights at CTF Soledad
Oakland IWOC response to the CDCr announcement and spin
Call or email:
1. Warden Craig Koenig
(831) 678-3951 ext. 5950
craig.koenig@cdcr.ca.gov
2. Director Connie Gipson, Division of Adult Institutions
(916) 445-7688
connie,gipson@cdcr.ca.gov
Sample script
"Hi, I'm calling on behalf of the prisoners who have been subject to group retaliation in CTF Soledad. People inside have been subject to a range of dangerous to unsanitary conditions, from being thrown in the hole or placed on lockdown, to mail being deliberately and maliciously missing or lost. This is group punishment and directly related to the Incremental Release program in Central Valley facilities that has now been cancelled. In their statements, CDCr said it is committed to individualized treatment, so why is group punishment being put on whole segments? We want group punishments ended, everyone out of ad-seg immediately, visitation, phone, and mail fully restored, and programming restored. Thank you."
 
 
You can report any feedback and information from your calls and emails by replying directly to this email. Thank you so much!