Friends —

W
isconsin!
Wisconsin!
We need your help to fold 125,000 Origami Peace Cranes!
Confirmed Milwaukee Area: Origami Paper Crane Fold-Ins:
1) Thursday, Feb. 27, 2020, 4-7pm Milwaukee Friends Meeting House, 3224 N Gordon Pl, Milwaukee, WI 53212
2) Sunday, March 22, 2020, 2-4 pm             Bay View Outpost Natural Foods Community Room, 2826 S Kinnickinnic Ave, Milwaukee, WI 53207
3) Saturday April 4, 2020,, 2020, 2-4 pm- Milwaukee Friends Meeting House, 3224 N Gordon Pl Milwaukee 53212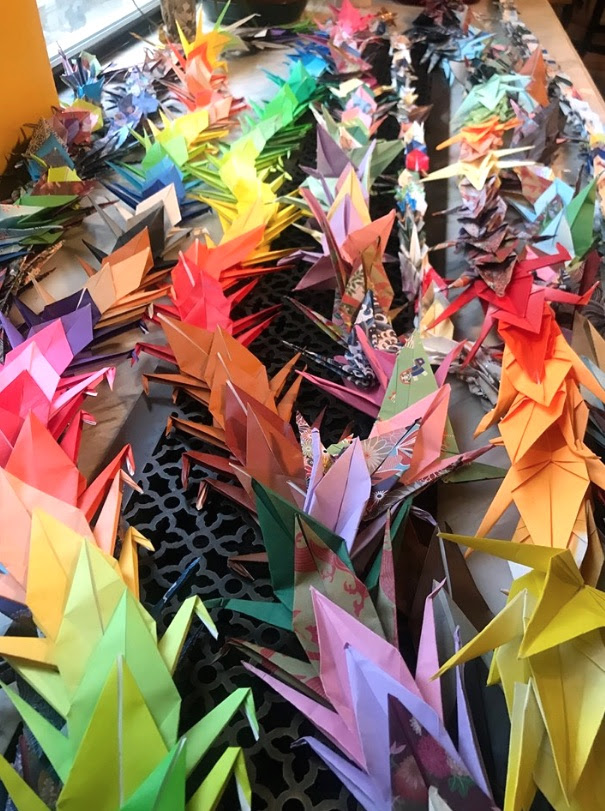 The following is a press release from Tsuru for Solidarity:
Japanese Americans from across the country will gather in Washington, D.C., June 5-7, 2020, for a "National Pilgrimage to Close the Camps". They will bring 125,000 paper cranes, or tsuru, as expressions of solidarity with immigrant and refugee communities that are under attack today. The 125,000 cranes represent the members of the community who were rounded up and incarcerated in U.S. concentration camps during World War II, including both Japanese Americans and Japanese Latin Americans.
Standing on the moral authority of their own unjust incarceration, the protest will demand that no matter where someone came from or how they arrived to the United States, they be treated with dignity and respect. They will stand with immigrant communities to condemn the policies that dehumanize them, including ICE detention, jailing and separation of parents, families, and children, and the Muslim ban.
The planning is being led by Tsuru for Solidarity, a non-violent, direct action project of Japanese American social justice advocates.
Fold-Ins:   We invite supporters to organize local "Tsuru Fold-Ins" to bring tsuruto Washington, D.C., or mail them by May 1, 2020. Details, including where to send tsuru, are available on the web site:https://www.tsuruforsolidarity.org
 Volunteers on hand to teach    Paper provided    All ages welcome  
If you can't make it to an arranged Fold-In and want to organize your own or make cranes at home, you may drop them off at the Peace Action of Wisconsin office, 1001 E Keefe Ave, Milwaukee, WI 53212.  We have limited office hours—please call to arrange a drop-off time—414.269.9525
Peace Action of WI
http://www.peaceactionwi.org/