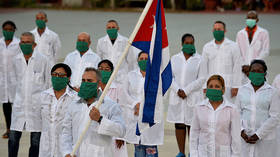 Doctors and nurses of Cuba's Henry Reeve International Medical Brigade take part in a farewell ceremony before traveling to Andorra to help in the fight against the coronavirus COVID-19 pandemic, at the Central Unit of Medical Cooperation in Havana, on March 28, 2020. © AFP / YAMIL LAGE
Havana has punched above its weight for decades when it comes to health. But never have the differences between its socialist system and the market-based system of its strongest detractor, America, been so apparent.
Even before it reported novel coronavirus cases of its own in March, Cuba's fingerprints were all over the efforts to stem the global pandemic, from China's use of 
antivirals
 developed on the island to treat the infected, to the docking of a British cruise ship in Havana in order to allow the 1,000 people on board – including five Covid-19 carriers – to return home.