Community,
On Friday, February 12th, 2021, Oakland's Reimagining Public Safety Task Force issued their first round of draft recommendations that will forge a new path toward holistic and community driven public safety practices and policies in Oakland. Within 48 hours, APTP along with the Defund Police Coalition hustled to put together the first version of a report with our full analysis of the draft recommendations.

Following a discussion and revision process, the Task Force's Advisory Boards released their second — and final — round of recommendations on March 1, 2021. We just updated our report, which includes NEW data on calls to the Oakland Police Department in 2019. Check out our updated report here.

So far, the Task Force has already withdrawn or amended some of the sections we initially had problems with, so our efforts are having an impact.These recommendations will now be deliberated by the 17-member Task Force composed of City Council, City Commissions, and Mayoral appointees on March 10th and March 17th.

Members of the public still have opportunities to weigh in — with one final listening session scheduled tonight, and public comment at the upcoming Task Force meetings.

Safe communities are whole communities with self determination. We need the Task Force to send recommendations to our City Council that invest in alternative and replicable models for public safety and that redirect resources from policing to the people.

Join the final Task Force listening session tonight at 6pm to make public comment & tell the Task Force to adopt the recommendations from our Defund Coalition Report.
What: Oakland Reimagining Public Safety Task Force Community Listening Session
When: TONIGHT — Tuesday, March 9 from 6 p.m. to 7:30 p.m.
Where:Zoom — click this link or the button below at 6 p.m. to join
This listening session will be dedicated solely to public comment. You will be asked to "raise your hand" on zoom in order to speak. Please urge the Task Force to adopt the recommendations from our Defund Coalition Report, and add a personal touch to your comments when possible, as unique comments tend to have a greater impact. Here's a document with a suggested public comment script format that you can use.
The Reimagining Public Safety Task Force will also be holding a special meeting tomorrow, Wednesday, March 10. The Task Force encourages public participation in the online board meetings.
Join us tomorrow, March 10 at 6pm for one of last Task Force meetings before this moves to the City Council.
What: Oakland Reimagining Public Safety Task Force: Special Meeting
When: Wednesday, March 10 from 6 p.m. to 10 p.m.
Where: Zoom — click this link or the button below to join
Agenda:
Roll Call and Determination of Quorum
Opening Remarks The Task Force Co-Chairs and Co-Facilitators will provide opening remarks.
Youth Advisory Board Presentation (15 minutes) Representatives of the Youth Advisory Board will provide a 10 minute presentation, followed by a question & answer session.
Community Outreach Presentations (30 minutes)
Recommendations Poll and Discussion (45 minutes) There will be a 5 minute presentation regarding the results of the recommendations poll, followed by a question and answer session and discussion. The poll results will be available at this link prior to the beginning of the 3/10/21 Task Force meeting.
Public Comment Speakers will be called on by the Co-Chairs as speakers "raise their hand" through video conference or by telephone. All speakers will be a
The Task Force must remain true to its mission, which is to divest 50% of the Oakland Police Department's budget and to invest that into community programs and alternatives to police.
Finally, there's another call to action for tomorrow, Wednesday, March 10 at 5pm to demand #JusticeForAngeloQuinto.
On December 23, 2020 Angelo Quinto's life was stolen by Antioch PD during a mental health crisis.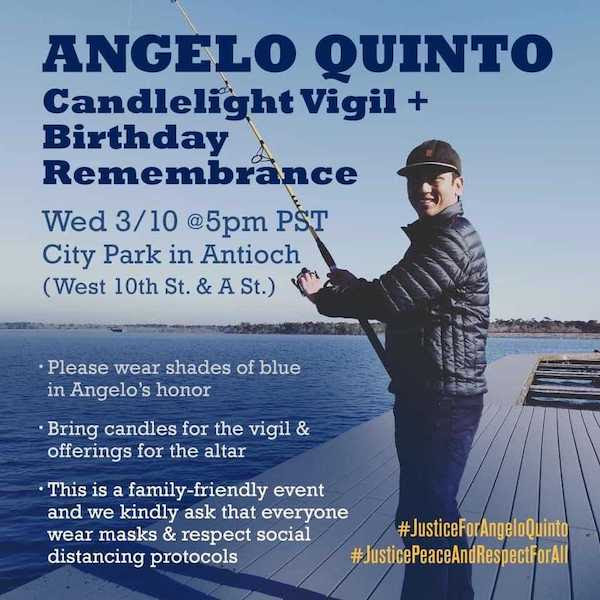 What: #JusticeForAngeloQuinto Candlelight Vigil and Birthday Remembrance
When: Wednesday, March 10 at 5 p.m. PST
Where: City Park in Antioch — West 10th St. & A St.
Please wear blue, mask up, stay distanced, and bring candles or other offerings for the altar.
Thank you for all you do,
APTP