https://www.ueunion.org/political-action/2018/nafta-20-delivers-for-corporations-underscores-need-for-international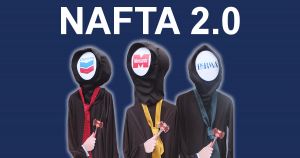 On September 30 the U.S., Canada and Mexico announced that they had agreed on a new "U.S.-Mexico-Canada Agreement" to replace the North American Free Trade Agreement (NAFTA). The new trade pact contains modest improvements for workers, but falls far short of the transformative changes demanded by the labor and progressive movements. It also includes new corporate giveaways, especially to banks, pharmaceutical companies, tech companies and the energy industry.
UE's officers issued a statement declaring that the agreement "reveals the stranglehold that corporate interests have upon our government, and underscores the absolute necessity of international solidarity among working people from all three countries in order to move forward."
UE, together with our allies in Mexico and Canada, mobilized to demand that the needs of working people be put front and center in the renegotiations. UE members signed and collected postcards opposing NAFTA's notorious Investor-State Dispute Settlement (ISDS) process during and after the 75th convention last summer. ISDS gives corporations the right to sue governments for trying to protect their people or the environment, if those protections could in any way lead to lower profits.
UE also participated in a #ReplaceNAFTA Day of Action in December, mobilizing members to call Congress to demand a worker- and community-friendly agreement. UE General President Peter Knowlton joined leaders of other organizations, including Public Citizen, the American Federation of Teachers, the National Farmers Union and the Catholic social justice lobby NETWORK, at a #ReplaceNAFTA press conference in Washington, DC.
UE also participated in meetings to build international solidarity in Mexico and Canada, and helped coordinate and host a trinational conference of trade unionists from all three countries in Chicago last October. The trinational gathering held a rally outside the Mexican Consulate in Chicago to draw attention to the Mexican government's failure to protect the rights of their own workers during the NAFTA negotiations. It was led by representatives from several independent Mexican labor organizations, including longtime UE ally the Frente Auténtico del Trabajo.